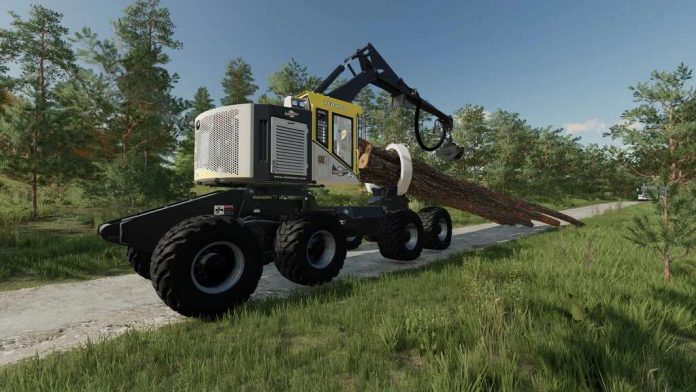 Timberpro TF840-B Pack v1.0 FS22
Expand your logging experience with a legendary machine from Timberpro! The TF840-B is universally usable:
With the LogMax 7000XT harvester head and the Hultdins SuperGrip 520, you get two attachments for both cutting and delimbing trees, as well as transporting them. With a configuration you can mount a stanchion structure on top of the TF840-B, alternatively, you can use a clam bunk to transport longer logs. All that with just one machine! The unique sound is completely new and recorded and comes from an original TF840-B.
Please note a few annotations at the end of the description
Contents:Timberpro TF840-B:
– Power: 300 HP
– Speed: 20 kph / 12.4 mph
– Price: 285,000 $
– Configurations: Design (default/stanchions), tires + tracks, log support, main color, design color
– Extra function: Choice between automatic and manual cabin leveling
– Extra function: Invert steering direction
LogMax 7000XT:
– Price: 75,000 $
– Extra function: Top saw (Second saw to cut the last, not usable piece)
Hultdins Super Grip 520:
– Price: 5,000 $
– Configuration: Model (520S and 520R, wood grab or biomass grab)
– Extra function: Switchable floating position for long logs
Timberpro clambunk:
– Price: 15,000 $
– Configuration: Design color
– Extra function: Switchable floating position for long logs
Annotations and support
– Control groups: 1 (arm and harvester head), 2 (Manual cabin leveling if selected, stanchions and clambunk)
– Because the system is based on attachable equipment, it is very important which attachment is selected. While using ONE attachment,
the base machine (control group 1 or 2) has to be selected. While using the harvester head AND the clambunk,
the harvester head has to be selected in order to cut a tree. If something isn't working, make sure that the right attachment is selected.
– If the grab or the clambunk isn't rotatable manually, make sure that the floating position is deactivated.
– The function of the top saw is on the key combination "LShift + X" by default.
– The steering direction of the TF840-B can be reversed with the "Change driving direction" function.
Credits:Vector Man
Tags: HPHultdins Super GripONE