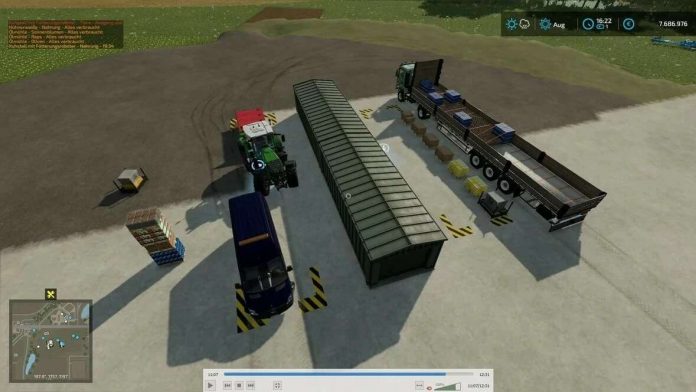 Small Pallet Storage v0.4 FS22
Small access area to underground storage for pallets and bales.
Version 0.4.0.0
– Correctly defined pallets from other productions can now also be stored.
– Bales can now be stored.
Everything that is correctly defined on pallets and bales in the standard game can be stored and retrieved here.
A total of 5 million can be stored. All production pallets, eggs, honey, lime, and so on can be stored. Not everything that is on the pallet, but most of it.
In addition, there are bales of all types and sizes in version 0.4, including relocation.
For this mod applies:
Upload on other sites only by myself, link only with an original download link. NO replacement link!
Changing and re-uploading, whether in whole or in part, is not permitted!
The following applies to the included script:
The script for swapping out pallets may be used freely, provided that the user is named.
No further permission is required to use.
Note for modders who want to use the script:
In the warehouse with the script, only products can be stored that also have a correctly defined pallet, which is used for outsourcing.
Of course, when creating a warehouse with the script, the categories can also be used, then it also works with mod pallets that are correctly defined.
Credits:Modell: Giants Textur: Giants Script: Achimobil & braeven Idee / Konzept: Achimobil & braeven Tester: FEDAction Team
Tags: production