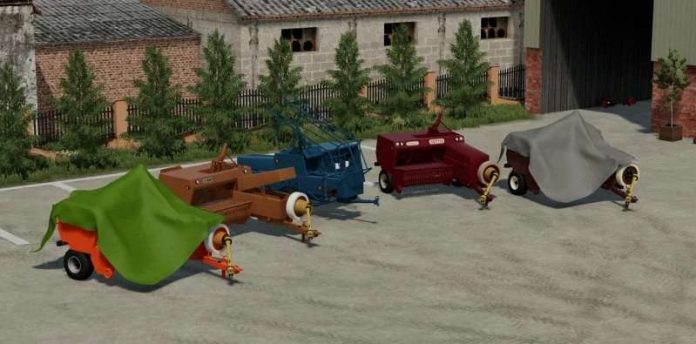 Sipma Pack Update v1.2 FS22
Sipma Z224 – SipmaZ224 / 1Price: € 10,000.Category: Baling Technology.
Color Configurations:
– Press color.
– Rim Color.
– Wom Wheel Color.
– Wom Guard Color.
Press Configurations:
– Model Selection.
– Choice of Emblems.
– PTO shaft guard.
– Triangle.
The press has a nice animation:
– Unfolding on the X key.
– Reel animation.
– Animation of a Hammer Breaking a Bale.
– Landing Landing Animations.
– Animation of the Spire.
– Standard FS22 Animation.
– Animation of Opening the Rope Flap, Camera Flap, Counterweight Flap, Removing the Wom Side Flap on the Mouse Buttons.
– Removable / Assembled Sipma tarpaulin on the mouse button.
– And many interesting elements.
Another:
– It has lights
– FS22 standards.
Update Sipma Z224 – Sipma Z224 / 1 – V 1.1.0.0:
– Wheel configuration.
– Feeder with a nice unfolding animation in Beta Version (Beams sometimes get stuck)
– Configuring the color change of Tarpaulins (tarpaulin On the mouse button).
– Under the Rushing Spire, and a new Tail Star animation.
– Fixed Press Weight. (The press does not jump after entering the Store)
– Corrected Texture of the White Lamps.
– Improved Press Sounds.
– The press has a New Store and an Icon.
– Improved Rear Decal.
– Fixed roller.
– And New Colors.
Update Sipma Z224 – Sipma Z224 / 1 – V 1.2.0.0 includes:
– Correct Small Beams weighing 300l.
– Additional Tarpaulin Colors.
– Unfolding configuration (Narrow – Wide).
– Specular and Normal textures have been slightly improved.
– Price changed.
– Ironing Speed ​​changed.
I emphasize: The press has no errors in the Log.
Credits:Model: Perkins /Burner Autor FS22: AgroPhoto
Tags: BaleCategory Baling TechnologyColor ConfigurationsPress Configurations