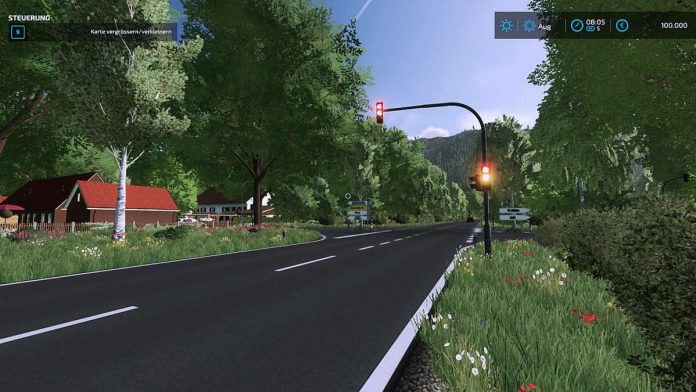 Kleines Bergland v1.0.0.5 FS22
ATTENTION THIS UPDATE NEEDS A NEW SAVEGAME!
What was done on the map.
New roads were built.
New traffic light system installed by Achimmobil
And small bugs fixed.
So, now I wish you a lot of fun with the card.
Lg LS SCHLESWIG HOLSTEIN
Now the time has come… Kleiner Bergland is here.
PLEASE READ!
There is 1 yard..! a building site.
82 fields
Weed Missions
Couple production
2 biogas plants
Multi-fruits: rye, triticale, spelt, poppy seeds, millet, red cabbage, white cabbage, carrots and onions.
ALL THE MODS YOU NEED WILL BE SHOWN AT GAME START.
IMPORTANT EXTRA MODS ARE LINKED BELOW.
SO A TIP FROM ME EMPTY YOUR MOD FOLDER AND PULL IN THE CARD AND START THE GAME.
AND LOAD THE MODS IN…! BECAUSE? IF YOU ARE A 24/7 SERVER.
IF YOU ARE MISSING A MOD, YOU WILL NOT FIND YOUR GAME! THEN ADD YOUR MODS AND LOAD ALL THE MODS ON THE 24/7 SERVER.
IF BUGS I MADE A ROOM ON MY DISCORD Small mountain countryz.
YOU CAN WRITE IN ALL THE BUGS I HOPE IT COMES NOTHING.
Credits:Giants Papaherz Silak68 Maulwurf63 Landbauer m4pj3cts arii FM-Modding Piesel Razak OmaTana Achimobil tn4799 RickBlackLabele KR-Softwares iKuh LSMT Modding Team Stefan VX mapping TrianglesTrouble MefiuFs modelleicher Farming Agency NDS-Modding