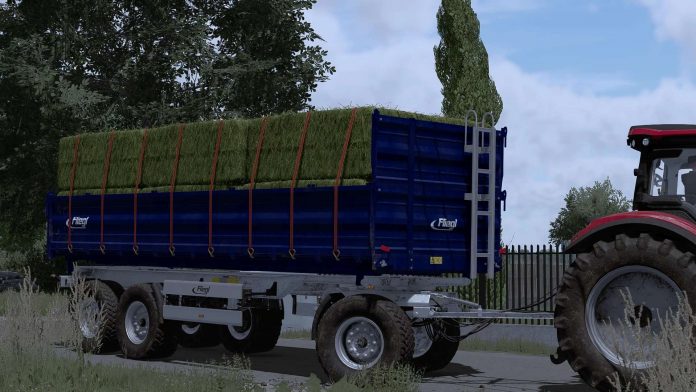 Fliegl trailer pack v1.3 FS22
This is a pack consisting of the Fliegl trailers that are known from the LS 19 of my Fliegl transport pack.
Version 1.3.0.0Changelog:
– Fixed course play and auto drive issues. The problem here was the position of the "exactFillRootNode" gizmo. This sat on the tailgate, but must be in the middle of the trailer. This has been adjusted.
– Choosing one of the following configurations for the trailers:
platform with stanchions
Platform without stanchions
platform with a back wall
Then you had a small collision on the right side in the middle of the trailers (it was difficult to hit). This has been removed.
Included are:Follower:
Fliegl DK (threshing stool)
Fliegl TDK (Tandem)
Fliegl MK (three-axle turntable)
Fliegl TMK (Tridem)
What can you configure on the trailers?
Tires: Here you can choose different tire configurations.
Hollow color: Here you can set the color of the trough.
Tarpaulin color: Here you can specify the color of the tarpaulin.
Rim color: Here you can set the color of the rims.
Wheel chock color: Here you can set the color of the wheel chocks.
Ladder color: Here you can set the color of the ladder.
Special finish: Here you can choose between different finishes. The configurations: cabin color, body color, wheel chock color, and ladder color are overridden!
Hand tools: Here you can choose whether you want to have a broom, a shovel, or both on the structure.
Structure: Here, you can choose between the following configurations:
platform with stanchions,
platform without stanchions,
platform with the rear wall,
Platform with the right side wall, (New)
Additional board walls
Small front wall
Tension belt orientation: Only available if you have selected during assembly: a platform with stanchions, a platform without stanchions, a platform with a rear wall, or a platform with a right side wall. This allows you to determine whether the tension belts should go from left to right or from front to back. The front-to-back orientation is intended for round bales. If you select this, the configuration for the hand tools is overridden!
The tandem and tridem also have a configuration where you can set the support leg to manual or automatic. If this configuration is set to manual, then you have to raise the support foot with [X] after coupling it. Then of course you have to extend it with [X] before you uncouple the trailer.
Furthermore, these two trailers also have a configuration for a steering axle. If you choose this, the axle is exchanged and the trailer becomes a little heavier.
All trailers also have animated leaf fenders! Thanks for this goes to RepiGaming! The rims were also replaced on all trailers and BPW wheel hubs were installed.
You can find the trailers in the shop under trailers.
Credits:Ifko[nator]
Tags: beltsBPWNew Additionaltools