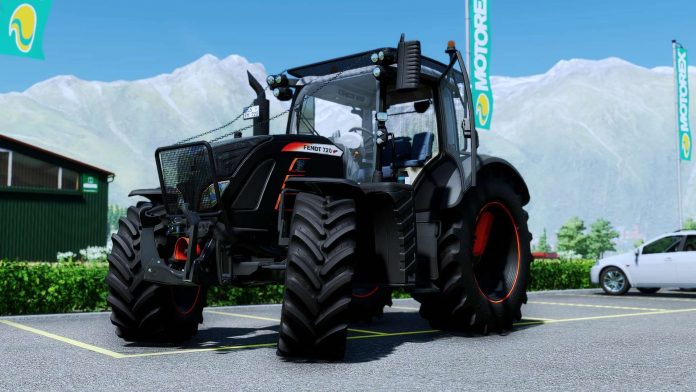 Fendt 700 Vario Editions Pack v2.4.1.1 FS22
Fendt 700 Gen5 and Gen6 in the standard version and 5 other design lines. SimpleIC and InteractiveControl are installed on windows, doors, mirrors and fenders.
Changelog 2.4.1.1:
Interior color changed to gray
Added RealGPS PDA to the FendtONE display on the right side
Updated DarkModeDisplay script to version 1.3
Info: The LS22 RealGPS Mod is required for the tractor! -> Real GPS
Engine configurations:
Fendt 714 Vario 150hp / 110kW Gen5 / Gen6
Fendt 716 Vario 171hp / 126kW Gen6
Fendt 718 Vario 188hp / 138kW Gen6
Fendt 720 Vario 209hp / 154kW Gen5 / Gen6
Fendt 722 Vario 228hp / 168kW Gen6
Fendt 724 Vario 246hp / 181kW Gen5 / Gen6
Fendt 724 Vario chip tuning 296hp / 218kW Gen5 / Gen6
New design configurations:
Bayern Gamers Edition
Red Edition
Green Edition
Yellow Edition
Blue Edition
Decal configuration:
LSFM sticker on the lower edge of the windshield
Decals on the door and on the right window
All configurations include a full LED light, some new lighting elements and a matching MICHELIN AXIOBIB "Design Configuration_name" tire configuration with matching colors.
Color matching LED strips were also installed on the cabin floor.
Rim color configurable including new colors (e.g. gray matt)
Main color configurable including new colors (e.g. Fend Black Beauty)
Design color configurable (changes the color of the front PTO)
Added new sound.
SimpleIC and InteractiveControl installed:
Door
Skylight
rear window
Side mirror
Fenders
and the beacons
can be opened/folded.
New: Crop sensor configurations:
White
Black
Bayern Gamers Edition
Red Edition
Green Edition
Yellow Edition
Blue Edition
Orange Edition
Changelog 2.0.0:
Added Fendt 700 Vario Gen5
All tractors equipped with ISARIA Pro Compact sensors
named config blocks
Changelog 2.1.0:
Bug fixes on the Fendt 700 Vario Gen5
All tractors equipped with configurable forest cages.
All tractors are equipped with attachable and detachable (SimpleIC) stone guards.
Fendt 700 Vario S5 (with FendtONE displays) now has a dark mode that is automatically activated when it is dark. Automatic can be deactivated with CTRL + A. Then the DarkMode can be switched manually with CTRL + B.
added new rim configurations.
Changelog 2.2.0.0:
All tractors now have a new Orange Edition Config.
All tractors have received a new BKT tire configuration.
Added VarioGrip for BKT and Michelin tires
Added passenger
Added new foiling
Changelog 2.3.0.0:
Move to lsfarming-mods.com
Added multiplayer sync for DarkMode displays
Changed MSO logo to LSFM logo
Fendt stickers on the bonnet now color with the design edition
Various minor adjustments
Changelog 2.4.0.0:
IfkOS system installed
AddConfig script installed for easier configuration of the rim edges
Added rim bezels to all tires except Nokian
ISARIA Pro Compact sensors can be colored
Revised DarkMode display script so that any number of displays would be possible.
Conversion to InteractiveControl. SimpleIC entries are still available and can be entered again if necessary.
Bug fixes for Patch 1.10
Credits:BayernAgrar – FS19 Fendt Cargo Console Prefab [ModHub] BayernAgrar – Fendt BeaconLights Prefab [ModHub] BigShogun – Tire Pressure Script Ifko[nator] – IfkOS Script (AnimatedIndoorParts) Ifko[nator] – AddConfiguration Script ifko[nator] – BasegameFixes Script RepiGaming – div. Texturen Julia – Fendt 700SCR Displays und div. Texturen Nico DU 55 – Kuhn TF1512 Pipe Holder Prefab [ModHub] Danke fürs mithelfen und beraten insbesonders an BigShogun und ProdaxCH, sowie alle anderen.
Tags: BKTLEDSimpleICVario Editions Pack